This Summer's Best New Menu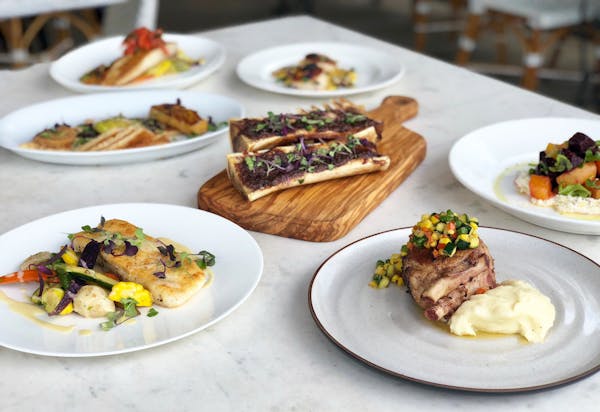 Summer is in full-swing at Brasserie 19 and our new menu items are taking center stage and highlighting our favorite seasonal, summer ingredients. From black summer truffles on our Thursday Plat Du Jour House-made Tagliatelle to Chef Jaime's Market Fish with sauce vierge and summer ratatouille.
Seared Scallops, summer corn and truffle pearls are a perfect starter pairing, while whipped local Texas goat cheese with red and golden beets compliment smoked blacked pepper, honey, arugula, and candied pecans in Chef Jaime's new Roasted Beet Salad.
The New! Sunday and Thursday Plat Du Jour
Chef Jaime's updates to our Plat Du Jour include a Sunday night Pork Chop with a summer succotash and celery root mash and House-made Truffle Tagliatelle on Thursdays with chanterelle mushrooms and fresh shaved black summer truffles.
MONDAY
PRIME RIB
slow roasted with au jus, robuchon potato,
grilled asparagus, horseradish cream
TUESDAY
BOUILLABAISSE
stewed local fish, shrimp, mussels, diver scallops, fennel,
provencal herbs, saffron rouille toast
WEDNESDAY
TRUE DOVER SOLE
sautéed with beurre noisette, market vegetable, potato au gratin
THURSDAY
HOUSE-MADE TAGLIATELLE AUX TRUFFLE
house-made tagliatelle with chanterelle mushrooms,
fresh shaved black summer truffles
FRIDAY
BEEF BOURGUIGNON
red wine braised short rib with vegetables and new potato
SATURDAY
FILET ROSSINI
8 oz. beef filet, seared foie gras, mushroom duxelles, buttered brioche,
truffled robuchon potato, demi-glace
SUNDAY
PORK CHOP
14 oz. double cut pork chop summer succotash and celery root mash
For reservations and more information, please call 713.524.1919 or visit www.brasserie19.com.