Get Your Passport Stamped: Only Three Weeks Left of SaltAir's Chef Series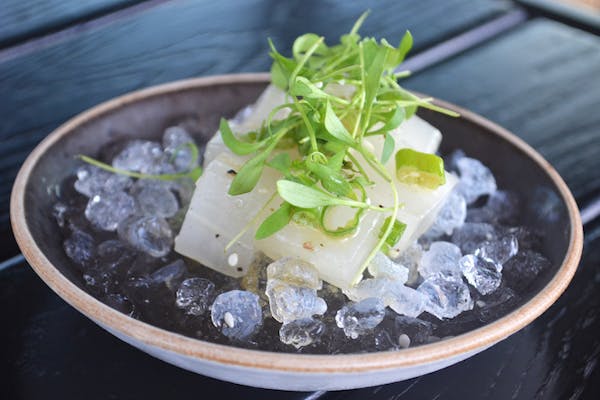 With only three weeks left of SaltAir's Chef Series, we've traveled to Baja, Hawaii and arrived in the Guangdong Province of China yesterday. This week Steamed Ginger Fish with green onion and soy is delicately placed over sticky rice and showcases SaltAir's interpretation of Cantonese Cuisine. Chili-Salt Crispy Duck with house-made green onion pancakes highlight the aromatic nature of the Chinese food tradition. SaltAir's Cantonese Cuisine Tasting menu is available until Saturday, June 17th.
Did you miss this week's flight? Join us the next two weeks as we travel to India and then Cuba.
WHITE DAIKON RADISH SALAD
white sesame seed, cilantro and green onion
SWEET CORN & CRAB SOUP
gulf crabmeat, sweet corn, ginger, scallion, and egg in a cantonese broth
STEAMED GINGER FISH
flaky white fish, ginger, green onion, soy, and cilantro with sticky rice and water spinach
CHILI-SALT CRISPY DUCK
steamed & fried duck breast with chinese cabbage, oyster sauce, and green onion pancakes
GINGER MILK CUSTARD
with crystalized ginger