First Stop Baja California Sur...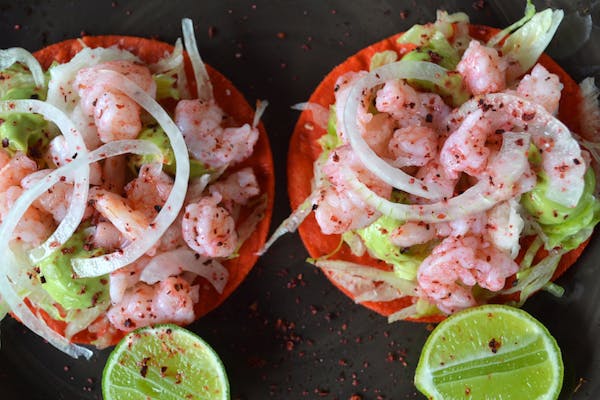 The flavors and culture of the Baja California Sur, Mexico came to life at SaltAir Seafood Kitchen last week as the #SaltAirChefSeries ushered in the first tasting menu of the 5-week series inspired by locations central to the Tropic of Cancer. Embark on a culinary vacation with SaltAir and receive a passport with snip-its of ingredient inspiration and menus for the upcoming weeks. Travel to Hawaii beginning June 6th with items like Hawaiian Style Cafe Tuna Poke Nachos and Laulau Pork steamed in taro leaf and served with sweet potato, sliced white onion, lomi salmon, chili paste, and portuguese sweet bread. Once your passport has been stamped for Baja and Hawaii, prepare for China, India and Cuba and allow SaltAir to show you it's ability to create and deliver dishes with international influence that impress.
Weren't able to join SaltAir on the trip to Baja? Check out their creations and see what some of your local magazines had to say!
AMUSE
"You begin with a tostada, a crisp, bright amuse-bouche — plus of shrimp ceviche paired with shredded lettuce, avocado, jicama, white onion, sweet chili, and key lime. It's a good way to get settled in your destination, near the Sea of Cortez." - James Brock, PaperCity Magazine
ALMEJAS ASADAS
"This is where we go to the Sea of Cortez. We're far south at Cabo San Lucas where they do clam bakes," Chef Brandi Key said, as she laid down an elegant plate of three roasted and stuffed Venus clams atop a bed of rock salt."- Phaedra Cook, Houston Food Finder
Venus Clams from the Sea of Cortez called "tender and briny" by PaperCity Magazine and "the technique used in their preparation is exemplary."
TAMALES FAJADOS

"Beautifully wrapped "tamale fajados," a classic dish from the same area of Mexico. (Fajados means "to swaddle.") It's stuffed with stewed chicken ranchero but interestingly enough, the corn used in the soft, fresh masa seemed the real star." - Phaedra Cook, Houston Food Finder
"A pool of Baja salsa shares the plate, and when you unwrap your second course you'll be greeted with steam and a delectable scent. It's ranchero chicken, and it's swaddled by the masa, and when you cut into it you will smile. One taste and you'll sigh." - James Brock, PaperCity Magazine
PESCADO ZARANDEADO

"Ready for a show stopper? Good, because the next course in this tasting menu is surely that. Pescado Zarandeado. A fresh snapper split head to tail, then grilled, head intact. The fish is marinated in a chile-soy mixture, and served with red onion, lime, corn tortillas, a tomato salad, and black beans dotted with queso fresca. Again, something plated well, a treat for the eyes." - James Brock, PaperCity Magazine
"The shameless show-stealer, though, was the filleted and flattened pescado zarandeado. Left head-on, it's grilled over wood on a plancha (cast iron griddle)." - Phaedra Cook, Houston Food Finder
CHIMANGOS & HELADO
"Finally, dessert. Chimangos & Helado. You know, just your plain old cinnamon-sugar doughnuts and vanilla ice cream. Think fluffy and warm small doughnuts, at nearly melt-in-your-mouth condition, and a vanilla ice cream from Lee's Creamery." - James Brock, Papercity Magazine