Calling All Coppa Kids: Dinner Menus Made BY Kids for Kids!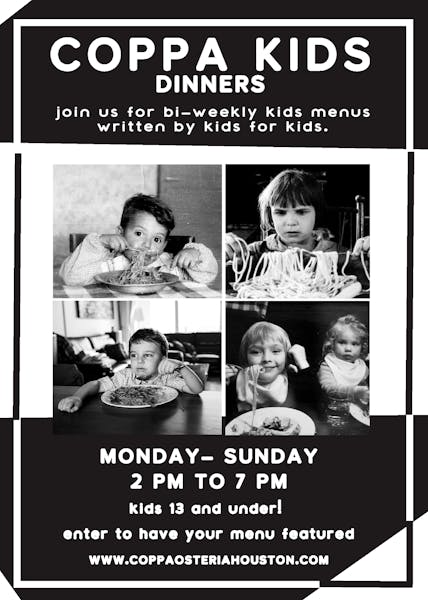 Coppa Osteria is launching dinners with kids menus written BY kids FOR kids! Join us every Monday through Sunday from 2 pm to 7 pm as we feature bi-weekly, rotating menus written by our Coppa Kids. Our first Coppa's Kids Dinner begins Monday, October 1st with Caymus Cooper's 3-course Menu including Mozzarella Sticks, Chicken Parmesan, and Vanilla Bean Bomboloni. (Don't worry parents our Chef will throw some veggies on the plate.)
Coppa Kids! Do you want to have your menu featured? Come in, fill out our questionnaire and tell us what you would have on your perfect dinner menu.
*Every menu submitted will be entered to be chosen for our bi-weekly Coppa Kids Menu feature.
For more information, please call Coppa Osteria at 713.522.3535.